In 2010, our company diversified its livestock activities by means of establishing a farm. Using state of the art methods, with our expert team of producers and business partners specialised on engineering, we produce small cattle, bovine and dairy farming in our country and various African countries. We also pioneer building and developing modern breeding farms.
Please visit www.innovadairy.com for further information on our brand Innova Dairy and our products.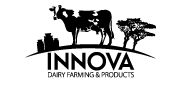 You may contact our expert team regarding your projects and inquiries.
Our Team >